We have a number of verified design approvals for all our 3D Double Back Fittings including 90 Degree 3D Double Back Elbows, 45 Degree 3D Doubled Backed Elbows and 3D Double Backed Bends. Marcore 3D Double Back Fittings have been designed to meet all of the following international standards: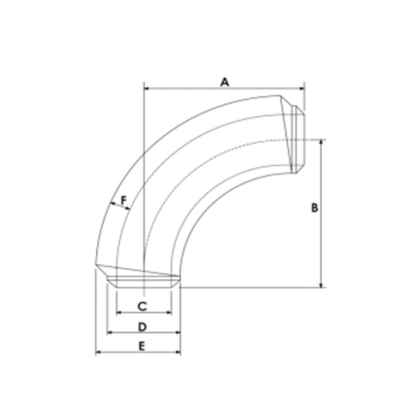 MSS‐SP75: Specifications for High test Wrought Butt Weld Fittings.
ANSI B31.3: Chemical Plant and Petroleum Refinery Piping.
ANSI 16.9: Factory made Wrought Steel Butt Weld Fittings.
NACE MR‐01‐75: Sulphide Stress Cracking Resistant Metallic Materials for Oil Field Equipment. - ASME VIII Division 1 section 13.10 Boiler and Pressure Vessel Code.
API 6A: Specifications for Wellhead and Christmas Tree Equipment
Marcore long sweep manifold fittings, (including 3D Double Back Elbows and 3D Double Backed Bends) are available with design and type approval.
90 Deg 3D Double Backed Elbow Standard Sizes
| NB | A | B | C | D | E | F (min) | WEIGHT (KG) |
| --- | --- | --- | --- | --- | --- | --- | --- |
| 2" XXS | 7 | 7 | 1.5 | 2.37 | 3.5 | 0.872 | 11 |
| 3" XXS | 12 | 12 | 2.3 | 3.5 | 4.5 | 1.2 | 30 |
| 4" XXS | 14 | 14 | 3.15 | 4.5 | 5.5 | 1.348 | 47 |
| 5" XXS | 17 | 17 | 4.06 | 5.56 | 6.6 | 1.5 | 75 |
| 6" XXS | 21 | 21 | 4.9 | 6.63 | 8.25 | 1.728 | 135 |
| 5.5" OD x 3.0" ID | 17 | 17 | 3.06 | 5.5 | 6.6 | 1.5 | 80 |
| 6.75 OD x 5.00" ID | 21 | 21 | 5 | 6.75 | 8.25 | 1.728 | 135 |